The clients brief was to modernize their home, focusing on the kitchen, butlers pantry, laundry, dining and lounge area and replace the tiled flooring with engineered timber flooring.
The original kitchen divided the large kitchen living space and needed a total renovation. To open up the space and improve the size and functionality of the butlers pantry, the wall between the butlers pantry and kitchen was moved and dual island benches were installed. The back wall of the kitchen included the drawered panty, double fridge, storage drawers and an entry buffet for storage of keys and incidentals.
A 1500 free standing oven with gas cooktop was installed in the 1200mm wide island bench with the sink and dishwasher located on the opposite 900mm wide island.  Bar stool seating was included on both island benches.
The Butlers Pantry was redesigned to include an appliance area, wine and standard fridge, sink, dishwasher and storage display area with the original entry door into the dining area closed off and sliding door to the outside reduced in size.
The laundry was renovated with stone benchtops, above cupboards with hanging rail and plenty of storage.
The dining and lounge area had the french doors removed and openings increased in size with feature wall paper and new sheer curtains on black feature rods installed.
The entry door was replaced with a 1800×2400 timber bifold door,  new engineered blackbutt timber was installed throughout and all doors and door hardware were replaced.
BUILDER: ABC Builders
            CABINET MAKER: Making Fine Kitchens
PHOTOGRAPHER: John Downs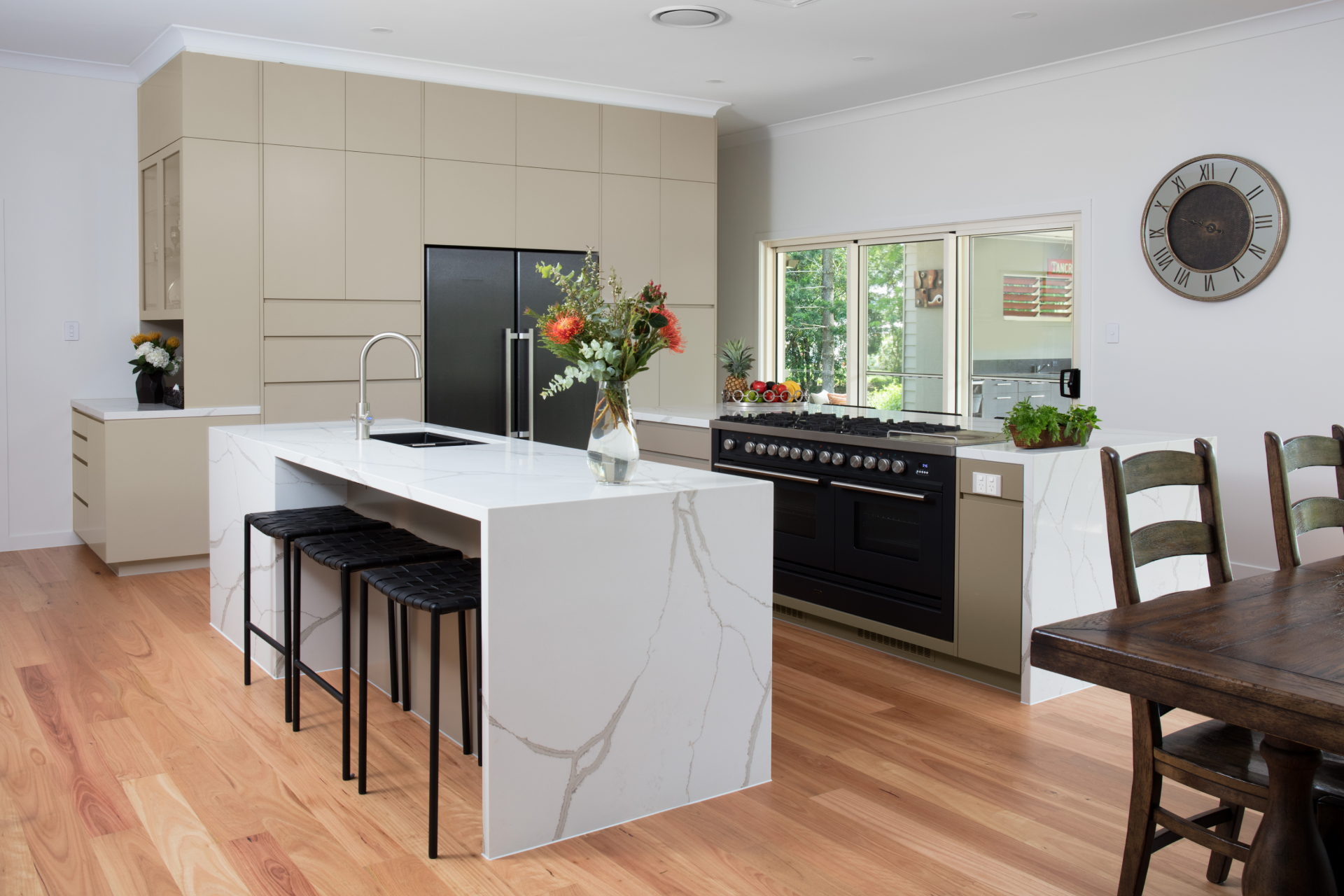 Original front bench with cooktop and sink had a hot water system and general plumbing that had to be moved and the butlers pantry was too narrow.
The wall between the butlers pantry and kitchen was moved 450mm into the kitchen area to give space to make a practical butlers pantry.  The concrete flooring was chased, allowing the plumbing to be redirected with the hot water system being relocated into the butler's pantry.
Take a look at what we started with