How to choose curtains, blinds
and shutters for your home
Do your windows and sliding doors need a new look?

With so many decisions to make, it can be daunting choosing the right window and door finishes for your home. As an experienced interior designer based in Brisbane, I can help in narrowing down the options and what you need to know before making your selection.
Start by asking yourself..
There is no "one" solution when it comes to choosing window and door coverings, however, I always start by taking into consideration…..
Does the space need light filtering finishes or a block out solution for sleeping?
Do you require easy access through a sliding or hinged door?
Is the window fixed, louvred, casement or hopper?
How high are your ceilings?
Are there any objections to certain finishes? … some people are not a fan of roller blinds
What is the budget?
Is motorisation required?
Each room in your home serves a different purpose and mood which you will need to take into consideration when choosing your window treatments.
Below I have recommended some of the best types of window treatments for your bedroom, general areas and bathrooms.
Design Ideas for Bedroom Curtains
For bedrooms if you have a large sliding, bifold or French door I normally recommend using a double track ceiling mounted curtain or a glider rod with finials. Ceiling mounted curtains make a room look higher and give a more minimalist finish, with a glider rod adding a more decorative feature to the room. Sheer curtains give privacy and adds softness to the room with a block out curtain that can be pulled across for sleeping.
My two favourite heading choices are either an Inverted Pleat or an S fold, with either a 10cm double hem or a lead weight rolled hem. For curtains, where possible I use a 3m wide continuous fabric which enables a curtain to be up to 2.7m high with no joins. Sometimes the gorgeous fabric chosen only comes in a 1.4m width so we have no option but to join the fabric, with the upside being the height of the curtain is unlimited.
Design Ideas for Bedroom Shutters and Panel Glides
If a curtain doesn't appeal, Shutters or a Panel glide using either block out or translucent fabric is my preference. Shutters can be sliding, hinged or bifold whereas Panel glide stack back to allow easy access and give privacy &/or blockout for sleeping.
Depending on the width of your opening, the panels can vary in size and either stack to one side or centre open, stacking to both sides.
Design Ideas for Bedroom Windows
For windows a double track sheer and block out curtain or a Roman blind once again give softness and privacy and can add colour and design to either an adult or child's room. Roller blinds and shutters are also an option, yet are a harder surface and don't give as much softness to the room.
I often use a combination of curtains and either shutters or blinds which gives a nice balance of softness and structure.
Living Room & General areas
Design Ideas for Living Room Curtains
For other areas of the home where block out is not required, I use the same principle as a bedroom, however, only do a single Sheer Curtain on a ceiling mounted track or feature glider rod allowing light to filter through and at the same time give privacy. If your curtain is subject to direct light, you must ensure that the fabric is UV resistant and I tend to use a fabric that has no more that 30 to 40% natural fibre (linen or cotton) and preferably 60 to 70% polyester with the polyester stabilising and being UV resistant.
I love natural fibres and where possible use 100% linen &/or cottons, however, usually in conjunction with either a light filtering or blockout backing fabric for both curtains and roman blinds.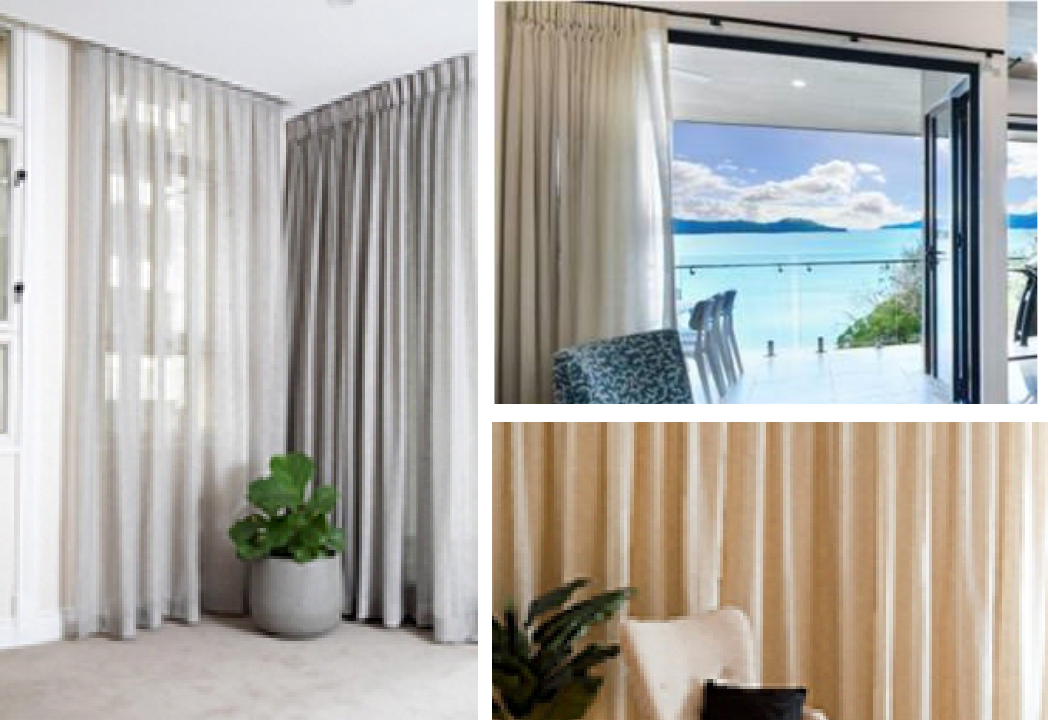 Living Room & General areas
Design Ideas for Living Room Blinds & Shutters
Panel glides, roller blinds and shutters are also a good solution for general areas throughout the home. A wide range of fabrics from Clearview, to transparent or blockout are available for both panel glides and roller blinds.
I tend to use a white or off white Shutter as my standard as it always looks crisp and clean in any room.
If you need window coverings in a bathroom white waterproof, mildew resistant Shutters are always my first choice.
Roller blinds can also be used as can a curtain in a large open space with good ventilation, but you must be careful with your fabric selection.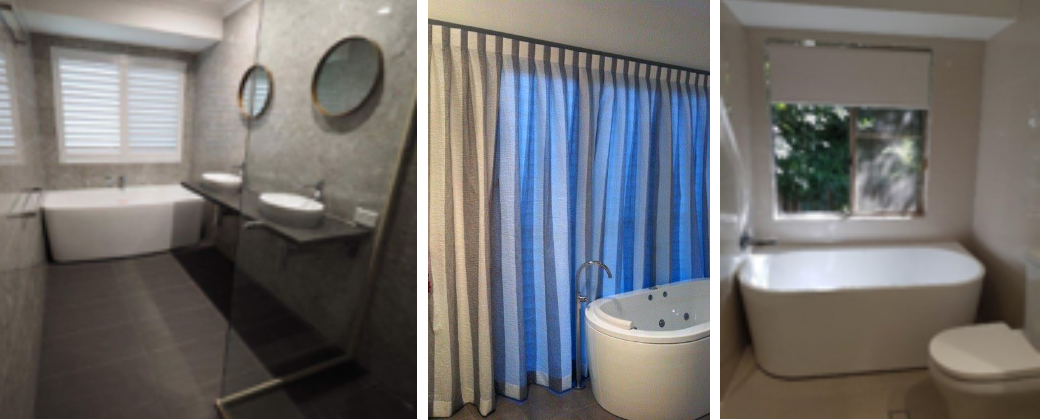 Frequently Asked questions
Still not sure which curtains,
blinds or shutters to choose?
With over 16 years experience in interior design, I can assist in helping you
choose the best outcome for each area.
Jo has done such a great job with our house colours, drapes, wallpaper and bathroom finishes. We are very pleased with the outcome and would highly recommend Jo.
We have done the house in three phases and Jo has been our interior decorator each time.
We engaged Jo to assist us with some new furniture to incorporate with what we already had. She came to us with brochures and we went to the supplier to see the items. We have been extremely happy with the outcome. As our unit was new she sourced window coverings (blinds, shutters, curtains) this made the process very simple for us.